Crystal Lok LLC Manufacturing Facility



The Crystal Lok® manufacturing, warehousing and distribution facility is capable of producing and shipping any quantity of Crystal Lok® Concrete Treatment required. This facility operates with more than 29 employees, a fully staffed testing and research laboratory and Distribution Center. Crystal Lok® has been manufactured in this facility for 16 years, shipping to distributors in the US, Canada, the Caribbean and Asia.

Crystal Lok® Concrete Treatment product testing has been conducted by independent engineering research companies with supervision by consultant engineers. U.S.A. testing is identified in the Testing Report.

Originated as Corroseal, Inc., reincorporated in 2002 as Joan T. Geiger, Inc. when the Corroseal® Rust Converting Primer product was sold, then reincorporated as Crystal Lok LLC in 2007, we continue to produce Crystal Lok® of the highest quality materials, with excellent record of product integrity, of representation, sales, manufacturing and delivery.



Crystal Lok® Concrete Treatment manufacturing facility and warehouse, shipping point.
Google.com photo)



Manufacturing facility testing and quality control laboratory.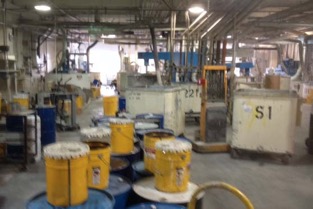 On February 11, 2016, physicists announced the first confirmed identification of gravitational waves generated by a cataclysmic black hole event.
The LIGO - Laser Gravitational Wave Observatory at Hanford, Washington has participated in the first discovery of
gravitational waves from a distant collision in the far universe.
LIGO Hanford, Washington, is composed of 2 fourteen foot diameter tunnels, each 4 kilometers long.
After being built the thin-wall concrete tunnels developed stress cracking over the outer surface and moisture intrusion into the tunnel interior.
Crystal Lok was applied to the entire 4 k length of both sections, total 5 miles, by Matheson Painting Company, Pasco, Washington.
See photos on our web pages at http://crystallok.com/styled-6/
and at LIGO Hanford https://www.ligo.caltech.edu/images?page=2
We are very pleased with the success of that huge instrument and the science required for that success.
Crystal Lok LLC (www.CLCO.us)