Additional Testing of Crystal Lok®
For Detail see
Testing Report
.

Abrasion resistance:
Crystal Lok® shows improvement. As it is a subsurface-activated product, do not expect surface abrasion resistance testing to demonstrate great change because most Ca(OH)2 (efflorescence) is released from the exposed surfaces. See Hardness results for another measure.

Absorption
:

The 244 test conducted by Wiss Janney, Elstner & Associates, Inc. Pfeifer and Scali (1981).shows that Crystal Lok® silicates resist water absorption better than siloxanes and siliconates but less than urethanes. For greatest vapor transfer protection, after applying Crystal Lok®, apply moisture cure polyurethane designed for high alkaline (pH 12) substrates. Fully absorbed aged structural concrete can become impermeable by the application of Crystal Lok® to either face of the concrete. This is also true for unsaturated and for new concrete.

Compression:
Amarillo Testing and Engineering, Inc. test cylinders, with Crystal Lok® as admixture and surface treatment, could not be loaded to failure at 89 days of cure time. The testing laboratory could not break the test cylinders at 89 days with a testing maximum load of 250,000 lbs, or 8,843 compressive PSI (Pounds/Square Inch).


Installing treated concrete wall panels for a residence, Amarillo, Texas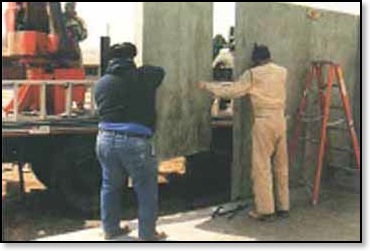 Large Missile Impact
:

Crystal Lok® treated concrete and polypropylene fiber panels of 4 feet by 12 feet by one half inch thickness (4' x 12' x 1/2") sustained no damage up to the limits of the test apparatus. Apparatus fired 89 inch lengths of structural fir 2 x 4 inch lumber up to 200 miles per hour. Impact tests demonstrate significant improvements with the application of Crystal Lok®. Impacts of repeated firings of a nine (9) pound wood 2 x 4 fired from a compressed air cannon resulted in zero failures in this test. This test is required for the State of Florida, following destruction by Hurricane Andrew. Large missile impact requirements of Dade county, Florida, were lower, 50 miles per hour.

Freeze-Thaw
:

Architectural, structural and decorative concrete treated with Crystal Lok® obtain a high degree of protection from freeze-thaw cycles, due to the inability of water to penetrate concrete, then freeze and spall.
Conclusion
:
Crystal Lok™ is effective as either a positive side and negative side barrier to most liquids for most above ground, below grade, and submerged applications where leakage through the concrete, not through cracks, is a problem. Crystal Lok™ performed well at the 175 foot depth equivalent.